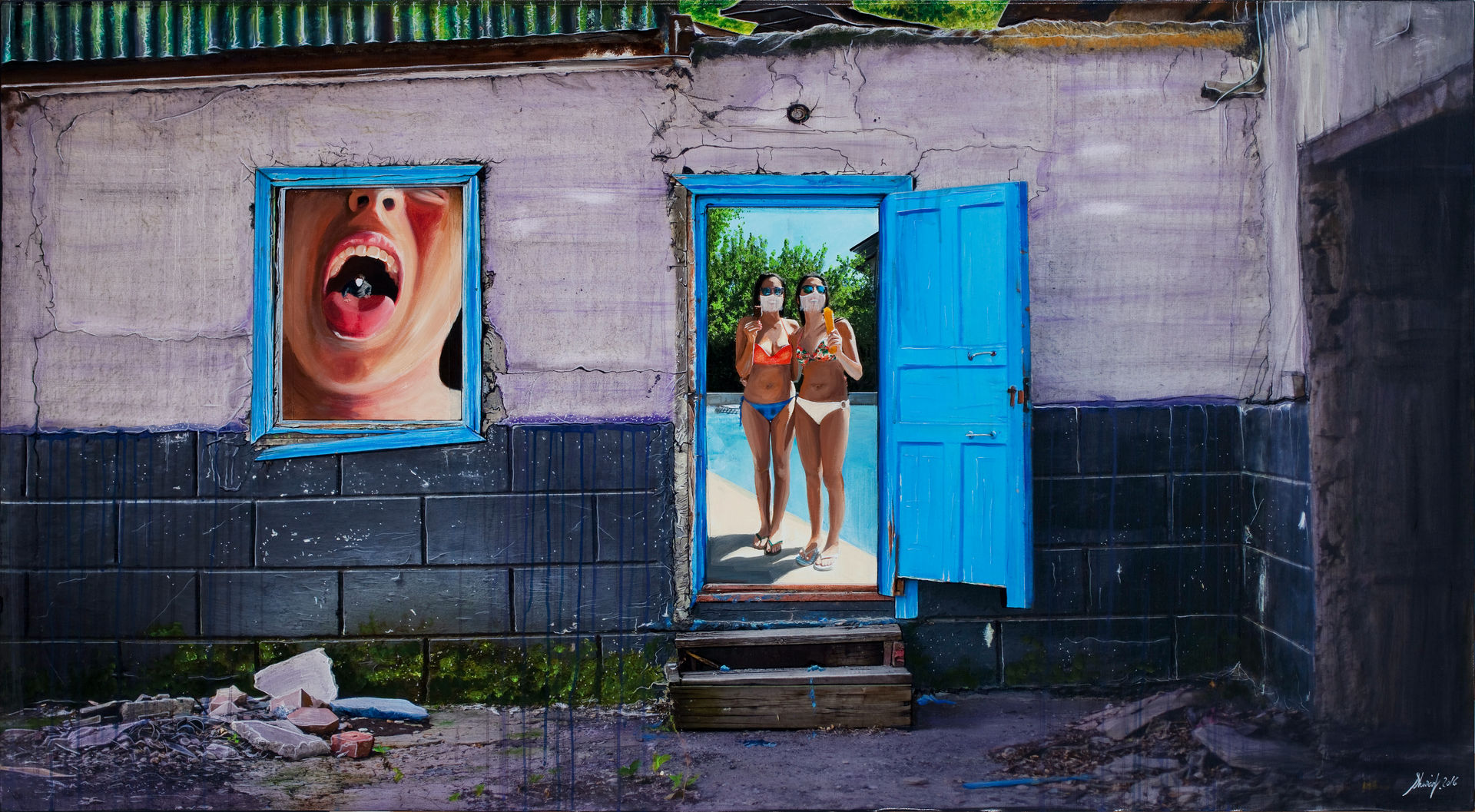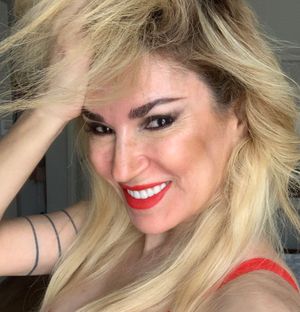 Overview
Why Popcornographics?
Popcornographics is the first NFT collection for me that brings together all my favourite collected paintings that have been censored since 2012 by authorities in my native Kuwait. In 2012, when the secret service entered my exhibition (held at a gallery in Kuwait City), they aggressively removed paintings off the gallery walls, threw visitors out, locked the gallery doors, and investigated me like a criminal for months after. The traumatic and frightening experience led me into a depression, whereby I avoided my phone and people. One day, my youngest daughter came back from school and asked me: "mama, why are they saying in school that your paintings are Popcornographic?" This innocent mix-up of the word exploded a light bulb in my head, and I knew instantly that I had to fight back this injustice with art that battled censorship, and that I had to continue my mission as an artist – and activist. From there, Popcornographic was born, a series of acrylic paintings that exposed the moral hypocrisies of the Arab Muslim world. Since 2010 I've been painting to speak the truth about my society, out of love for my country, region, people and culture. The only way to move forward is to open a dialogue, irrespective of how controversial it is, to allow for acceptance of diversity, love, peace and justice for all.
Popcornographics is the NFT version of that collection.
My Story, In a Nutshell:
If you ask anyone else, who is Shurooq Amin, and in fact if you check my bio in my website or Wikipedia, it would say: "Shurooq Amin is a mixed-media interdisciplinary artist and an Anglophone poet whose purpose is to instigate positive change in society. She has a PhD in Ekphrasis, the relationship between art and poetry, and has been published and anthologized internationally. She has been a guest speaker at various universities and institutions, a judge for various events, including panel examiner at various Viva Voces, as well as curating several art installations".
​
But actually, there's a bit more that matters:
Born to a Kuwaiti father and Syrian mother, a Turkish grandmother on one side of the family and an Iraqi grandmother on the other, yet studying in British schools, and looking European for some reason, has always made me an outcast in my country. I never fit in, never belonged. I looked different, sounded different, acted different, thought different. So needless to say I grew up confused about society, especially when my beloved father passed away at the young age of 40, leaving me even more confused about the way I was treated as a young Muslim girl growing up without a father. Fast forward to marriage for two decades, four kids, and a divorce, and discovering that even in 2009, society put a giant scarlet letter on my chest as I walked down the street unable to get a loan from a bank or rent a home for me and my kids. Nobody wanted to deal with a single mom.
This frustration, this anger I felt at the injustice I faced, I put it all on canvas. I refused to allow it to destroy me or bring me down. I used it as fuel for my art.
So I created the collections Society Girls and It's a Man's World, in 2010/2012. And the secret service shut it down, locked the gallery, and the police came to destroy the work, which we smuggled out of the gallery in the middle of the night. I was then adopted by Ayyam Gallery in Dubai, and went on to do great things as an artist: 15 solo exhibitions, more than 45 group exhibitions, my paintings were sold at auctions, commissioned privately and publicly, awarded prizes locally and internationally, and shown at biennales and art fairs.
In 2012 I was nominated as one of Kuwait's 46 Inspirational People.
In April 2013, I was awarded the title of Artist of the Year by the Arab Woman Awards, and thereafter became the first Kuwaiti female artist to be auctioned at Christie's auction house, and the first Kuwaiti female artist to show her work at the Venice Biennale.
In 2014 I became the first Kuwaiti woman to be interviewed by BBC's Stephen Sackur on HARD Talk and have appeared on various other BBC news TV and radio shows since.
I also became the first Kuwaiti poet to be nominated for the prestigious Pushcart Prize in December 2007 in the USA.
In 2016, I was listed as one of the top 50 GCC Women Leaders and have been the recipient of the Extraordinary Women In Leadership award by World Congress Brand, nominated for the Extraordinary Women's Awards by ECCO, Dubai, and a speaker at the Global Economic Forum: Women in Leadership.
My poetry has been published into three books to date, in more than 40 literary journals across the globe, and has been anthologized and taught as part of the contemporary literature curriculum in universities in the Gulf.
​
I have appeared in various films, including The Women Within, a film by Bloomingdales focusing on celebrating the women behind the women.
Then in January 8th 2020, my exhibition Like Russian Dolls We Nest In Previous Selves - opened up to critical acclaim at CAP Gallery in Kuwait. Sadly, the exhibition lasted one week before it was shut down and censored by the Ministry of Interior and Ministry of Information on the false premises that the artwork was "pornographic". Yet again.
I have since become a speaker on censorship in the arts and the repression of voice for women, speaking at the Bahrain Rotary Club, Jordan Rotary Club, and the Berlin Freemuse Conference on Artistic Freedom. This second-time censorship has given me further fuel to expose extant hypocrisy in the Arab Muslim world.
And as such, in early 2021 I turned to the world of NFTs as a platform for freedom of expression, using NFT art as a utility for freedom, getting my message across universally without fear of oppression or censorship.
What Do You – as a Collector – Get Out This?
Other than getting lifetime revenue from my NFT sales and forever being compensated for being one of my backers? You become part of the story of an artist with longevity, history, accolades, accomplishments, and an ouvré spanning 30 years, part of a story that is much more intricate than can be told in a public forum. You get to know that you're buying from – and supporting – not only an artist who is here to stay, another 30 years, if we live that long, but also a single mom who is doing it all on her own 100%. You get to invest in an artist with an established reputation (albeit some would say infamous), who prioritizes her collectors and supporters, and would never do anything to jeopardize that trust relationship.
"But Really, Shurooq, What Am I Getting Here"?
In addition to the NFT, you receive:
1- An original Letter of Authentication signed and dated by me
2- A physical print of the artwork, signed and dated as well.
3- For every 3 NFTs purchased by the same collector, you will receive a free commissioned work.
4- AND MOST IMPORTANTLY, you get a LIFETIME SHARE OF MY SALES TO YOUR WALLET!
All the details for the above can be discussed via Twitter DMs, or by email on shurooq@shurooqamin.com
You can find all my work, info, and social media here: https://linktr.ee/shurooqamin
Collaborators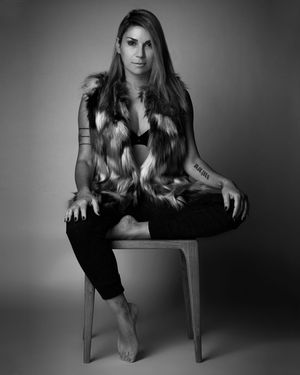 ADMIN
Shurooq Amin
0% raised of 0 0 goal
(0/0 Backer Tokens Sold)
Total Tokens ( Reserved for Team + Tokens on Sale): 0
Ownership percentage per Token: 100 / Total tokens
Get MetaMask
Backer Token
1 Token - 0 0
0% ownership
Minted by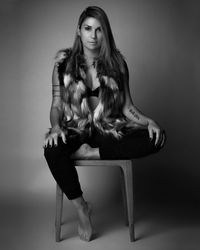 View Mint Transaction
View on Opensea